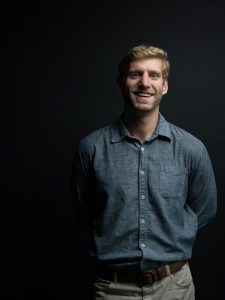 Kirk Rose – Anchorage, AK
Executive Director, Anchorage Community Land Trust
Anchorage Public Library board member
Anchorage Downtown Partnership board member
My Catalyst experience began as I was on the cusp of becoming Executive Director at the Anchorage Community Land Trust. I thought Catalyst would be a perfect time for me to reflect on my leadership style, learn a few new tools and tricks and network with some great new people. As I was stepping into a prominent leadership position, I wanted to model professional development for my team and adapt our business strategy according to some industry best practices. Through the program, I was able to do all those things and, more. Much more.
Catalyst invited me to be courageous in the face of challenge. At the same time as class was set to begin, my dad had a stroke. I questioned how I wanted to show up in the world – how could I be the supportive son and brother my family needed in the face of my dad's challenges while being the Executive Director my board expected? The experience gave me ways to approach tough questions and strategies for achieving the success I wanted. It helped me become a more well-rounded, capable leader at work and with my family.
Catalyst also required me to provide real support, the kind you can't fake or "mail in," to my peers who were taking the journey in step with me. This network of leaders is creating an exciting sea change for the state – one that I'm proud to be part of.
comments powered by

Disqus