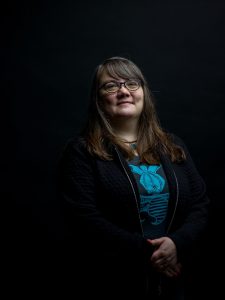 Laurie Morrow – Homer, AK
Update: Laurie is currently the Executive Director of the Pratt Museum
Education Director, Alaska SeaLife Center
Seward Community Library Association Board Member
After many years teaching abroad and exploring "the rest of the world", I returned to my home state of Alaska to join the Alaska Sealife Center. Three years later, I assumed a management role. As someone who is deeply connected to engaging people in personally meaningful learning processes, I knew that the transition to becoming a senior manager meant a shift in the way I drew inspiration, as well as how I would now be inspiring others.
In that same year, I watched as our CEO's approach to leadership developed through Foraker's Catalyst process. I joined the Catalyst program the following year with the hope that this process would demonstrate how I could better empower staff and community members to fulfill our mission from a personal stakeholder position. As we say in the education world, modern leaders act as a "guide on the side" rather than as a "sage from the stage." In the years that have passed since participating in the program, I've become an active partner in local and national climate change dialogues – engaging youth, agencies, and peer groups, as well as initiating outreach research. This fall, I will be joining a cohort of doctoral students in an online program with the University of Missouri – St. Louis. Through the Heritage Leadership program, I'll be able to continue my work in Alaska while exploring the topics of sustainability, heritage, social justice, and participatory culture.
Throughout this journey, I've discovered the importance of being consistent, sharing my own truth, and listening to peers in more thoughtful ways. As a result of the relationships I've formed through Catalyst, I have a greater sense of how we all work in different ways to strengthen the fabric of our shared society and how, as nonprofit leaders in Alaska, we benefit from one another as professional peers and supporters.
Photo credit Ash Adams.
comments powered by

Disqus