Every two years we ask you to tell us how you compensate your staff. With your participation in the Foraker Salary & Benefit Survey, we are able to create a tool for Alaska nonprofits to use in making important personnel decisions. The survey is designed to help you establish a salary for a new position, evaluate salary norms within the Alaska nonprofit sector, and compare your organization's benefit offerings and total compensation competitiveness. The report can be used to find information relevant to you – breaking the data down by job titles, organization budget size, and by sub-sector. Again this year, we are asking organizations to specify staff gender in order to gauge pay equity in our sector.
The link to the survey will take you to a secure online area that allows you to add key information about wages and benefits. If you participated in the last survey, you should already have received a password to log in and view your 2016 data. You will simply need to update your information and submit it.
Organizations participating in the survey may have a copy of the executive summary at no charge. Full survey results will made available at these rates:
Foraker Partners that participate in the survey — $200
Foraker Partners that do not participate in the survey — $275
Other nonprofit organizations that participate in the survey — $250
Other nonprofit organizations that do not participate in the survey — $375
The survey is open for participation through September 28.
Thank you. Your participation allows this resource to exist.
If you have questions, please contact Todd Allen, 312-330-0285, or email to allentodd50@gmail.com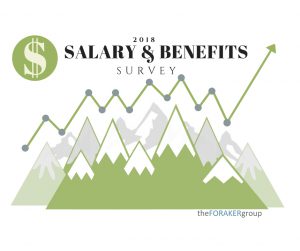 comments powered by

Disqus