Looking Ahead to 2013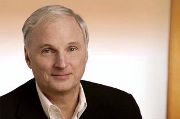 The winter solstice came and went. So if you are reading this newsletter, those predictions about the end of the world, fortunately, were wrong. We are also now clear on whether or not we fell off the "fiscal cliff." Now we need to see if the predictions of the impact on the economy of their decision (or lack of) are accurate.
For sure, predicting the future is a risky business. Still, during the past year I wrote a number of articles to predict what could be on the horizon. Only time will tell if the trends we suggest – like the funding crisis, crash of the herd, or structural changes – are real or not. Or if the hopeful visions about the impact of technology or the new insights into human behavior described in last month's newsletter actually revolutionize how we solve problems.
But today I will be more concrete and provide a more predictable future for 2013. Unlike our prior "guesses," you should be able to bank on these. They are:
The Foraker Group will become a full member of the National Council of Nonprofits, our association that supports America's state nonprofit associations – therefore supporting the nonprofit sector.
A related prediction is that public policy will become an even larger focus for Foraker in 2013.
We will hold our third Leadership Summit on April 22-23 in Anchorage. The theme of this summit is "Telling Our Stories."
The much-anticipated book on the Foraker Nonprofit Sustainability Model will be published!
The Affordable Care Act will begin to have an impact on nonprofits as employers.
Alaska's nonprofits will continue to provide significant support to Alaska's communities regardless of the obstacles they will face.
National Council of Nonprofits and Public Policy
In its last strategic plan, one of Foraker's goals was to review and determine if affiliation with national or regional organizations with similar missions made sense for us at this stage of development.
This is not as simple as it may appear. Foraker is a hybrid organization. We are seen by many Outside experts as a management service organization, an MSO. Such organizations provide training, back-room support, and/or consultation services. Foraker does all three. The Alliance for Nonprofit Management is the national association for MSO's and private consultants serving the nonprofit sector. So after review in 2012, we joined this association based on its energetic vision and our desire to learn from others in order to better serve Alaska. All it takes to join the Alliance is to pay the dues – so we are "in" and I now serve on the board.
In addition to being an MSO, Foraker serves as Alaska's nonprofit association. So after another more intensive process, Foraker joined the National Council of Nonprofits. The primary reason to join was to better serve as the "Voice of the Sector" in Alaska – in other words, to become more competent in public policy.
The National Council of Nonprofits is led by Tim Delany, a former Assistant Attorney General from Arizona and one of the most articulate and passionate spokespersons for the sector. In addition to Tim, a Council VP, David Thompson, is one of the most experienced public policy experts working on behalf of the sector.
Along with the remainder of their small but stellar staff, the Council is quickly becoming a much respected voice for nonprofit interests in Washington. It was recently involved in advocating to the White House and Congress for a better solution than to limit tax deductions – a strategy that could have a negative impact on charitable giving. As the federal government continues to address ways to reduce spending, as well as other issues that will impact nonprofits, we can count on the National Council of Nonprofits to speak on our behalf.
To join the Council we had to complete a formal proposal. The Council had just adopted new, stringent, criteria to ensure that every state had the best possible representation. After the initial application, Foraker was accepted as an affiliate member, but had to wait at least one year before applying for full membership. In November, we were asked to submit a new proposal and we hope that early in 2013 we will be a full member.
As important as their role on the national scene, the Council stays attuned to issues from state to state. In fact, as a sector, more threats exist from state legislators than from the federal government. And while at present, our sector is in good standing with the Alaska legislature, we should be vigilant to ensure that is the case into the future.
As a Foraker Partner, you have access to Council newsletters and other resources. I encourage everyone to take advantage of this tremendous resource so we can work together to make sure we maintain the right relationship with both state and federal officials.
The Leadership Summit
Please mark your calendar, April 22-23, 2013 to attend Foraker's third Leadership Summit. Telling Our Stories, this year's theme, should interest every nonprofit leader because we will focus most sessions on how to improve communication efforts.
As in prior years, we will keep costs as low as possible and will provide limited travel support for sector leaders coming from around the state. This summit is designed for any nonprofit staff member and board member. In prior years, over 400 people registered, at least half from communities other than Anchorage.
Internal and external communication continues to be identified as one of the most perplexing issues facing many nonprofits. We have identified dynamic national and local presenters to share their insights. Some of the speakers already committed include:
Thaler Pekar – a noted expert on storytelling.
Kivi Leroux Miller – known for excellent webinars and blogs and an expert on how small organizations can have a large impact through strategic communications.
Tom Ahern – expert on donor communications.
Steve Culbertson – President of Youth Service America, a CEO who "walks the talk" and who integrates communication strategies into daily activities and has mastered inter-generational communication.
Feedback from all conferences is for more unstructured time for networking. So like our earlier conferences, we will provide many opportunities for Alaska's nonprofit leadership to network.
Click here for more summit information and to register. Early bird registration ends on February 22.
The Book
Over seven years ago, Foraker started on a quest to understand and then to describe what makes nonprofits sustainable. After all these years, we are very pleased to announce that we are in the final phase of publishing our book, Focus on Sustainability: A Nonprofit's Journey.
We have been methodical and persistent using all that we have learned from working with and observing Alaska's nonprofit sector – you. The Foraker boards have been involved in listening and responding to our insights, making sure the book stayed true to its original vision. Everyone in "the Group" offered meaningful input to help create a book that we envision will become a useful tool for Alaska's nonprofit sector. We have also engaged colleagues from around the country to help us understand and deliver this message. They urged us to distribute this book nationally because the issues we address in this simple little book, according to them, are relevant everywhere. We will sell the book through our website, but it will also be available on Amazon.
In November, when we saw the preliminary graphics for the book, Laurie Wolf and Suzanne Lagoni who have dedicated an amazing number of hours working with me to get the book to this point, exclaimed: "We have a baby!! This is like looking at an ultra sound!"
Obviously we are excited and I will be forever grateful to our staff, boards and to our Partners for helping with this effort; but most of all, to Laurie and Suzanne.
Health Care Reform
Foraker's health insurance plan continues to provide coverage for employees in over 40 nonprofits around the state.
While we are disappointed that more nonprofits did not take advantage of this initiative, most that did join have seen their rates increase at a slower rate than the norm. As a matter of fact, Foraker's own insurance rates decreased by 2% for 2013! During the past four years our total premiums rose less than 15%, and since a 15% increase has been the normal year-to-year increase for the past 30 years in Alaska, we are very pleased with this result! Our strategy worked!
This outcome was not magic. We predicted that a focus on primary care and wellness would be a winning strategy. We will continue to work with our Partners, The Wallace Group, Premera, and the 40-plus Foraker Partners on this initiative and modify the plan with hope of attracting even more forward-thinking organizations into the group during 2013.
In addition, we will provide ongoing information to our Partners on what to prepare for in 2013 from the implementation of the Affordable Care Act. Many organizations participated in a session held on December 19 to understand and prepare for these changes. We had so much interest that we will be conducting another session early 2013. Our goal is to be a resource for all Foraker Partners, those in and out of our plan, on how to best prepare for these changes.
Jeff Ranf, our lead consultant on health insurance, suggests these are the primary issues we should be prepared for in 2013:
Health Flexible Spending Account (FSA) contributions will be capped at $2,500. (Legislation may be in the works to change some of this.
Preventive care for women will be mandatory.
Plan years beginning 8/1/12 and later will have some new requirements like:

W-2 Reporting

Employers issuing less than 250 W-2's in the prior year will be exempt until further guidance is issued.

Summary of Benefits and Coverage (SBC)

Will be required for plan years following 9/23/2012.
Electronic delivery will be allowed only if the participant enrolls online.
Paper copy must be made available upon request.

Health Exchange Notification will be determined by March 2013 pending guidance – the state will probably opt for the federal government to develop an exchange in Alaska.
Payroll tax increase of .9%

Applies to employees earning >$250K if married filing jointly, $125K if married filing separately, $200K for any other filing status
Confused? If not, please hang a shingle and consult others. But if you are, then feel free to consult with us. For more information, call Rebecca Savidis at 907-743-1210, or come to the next workshop.
In Closing
I am certain these predictions for 2013 will come true. And I also predict that one of the most significant developments in the sector in the past few years, Pick.Click.Give., will continue to grow. If each of you who reads this letter makes a contribution — and we each get five more people to give — Pick.Click.Give. will exceed $3 million in 2013! So help make this prediction a reality. Go online and give.
Even with all this gazing into the future, I'm certain that much more will happen in 2013 than we could ever imagine. I am excited and optimistic about the future impacts from our collective efforts. As we have become more connected around the country, we continue to understand that in spite of challenges, nonprofits in Alaska seem incredibly resilient. And this will continue as long as we're strategic and collaborative – and, therefore, more sustainable.
My last prediction/hope for 2013 is that we continue to work together and learn from each other to improve the quality of life for all Alaska's communities.
Happy New Year!