Program Structure
There will be two opportunities to apply to New Pathways | Alaska, with up to 10 organizations across the state being selected to take part in each cycle of the program.  Applications to join the first program Cohort are now open, and a second application period, for the second Cohort, will open in May 2015.
The program is designed to enable growth in the adaptive capacity of participating organizations via five different program components:

These different activities will play out in a sequence over three years.  The second Cohort will begin work approximately one year after the first Cohort.  The program as a whole will therefore last a total of four years.  The diagram below illustrates the sequence of activities in each program cycle, and the relationship between the two program cycles.  Details of each program activity follow.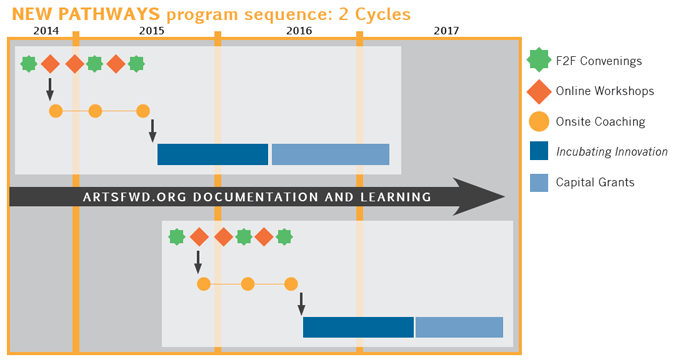 1. Hands-on Workshops and Face-to-Face Participant Forums
The series of linked 3-hour Virtual Workshops are for leadership teams from all the organizations taking part in a program Cohort.  Each organization is asked to participate with a consistent team of board and staff leaders (artistic and executive), with at least 3 individuals taking part in all the Workshops.  The Virtual Workshops, led by EmcArts staff and guest faculty, together constitute a curriculum in innovation and adaptive change, grounded in the situations and real issues of each organization.  The Virtual Workshops relate to different aspects of adaptive capacity.  Each is built on the research findings of authorities in the discipline of organizational learning and change; the work in each session fuses those insights with the practical real-life challenges the participants are facing.
To complement and run in parallel with the Workshops, the program includes three in-person Participant Forums in Anchorage (travel funding provided) as opportunities for shared learning, peer-to-peer exchange and the development of collaborative initiatives.  The first Forum will provide an opportunity for participants to familiarize themselves with each others' work and for participants to give input on topics for future Forums.
2. Individualized On-Site Coaching
To leverage the learning from the series of Virtual Workshops, follow-up On-site Coaching visits by a Foraker Group facilitator will allow participating organizations to further explore the ideas, approaches and topics introduced in the Workshops and Forums, to enroll other stakeholders in each organization to the work of adaptive change, and to respond specifically to the situation of each organization as regards the pursuit of new approaches.
The Coaching activities provide an opportunity for organizations in the program to identify complex adaptive challenges that they are facing, investigate long-held assumptions about how they do business, and individually assess their adaptive capacities.  The intention is to guide each organization in significant self-reflection as a valuable exercise in itself, as well as preparing them to plunge into a real innovation project.
The schedule for these initial activities in New Pathways | Alaska is as follows:
September 24, 2015 – Participant Forum #1
October 1, 2015 – Virtual Workshop #1
October 22, 2015 – Virtual Workshop #2
November 12, 2015 – Virtual Workshop #3
January 22, 2016 – Participant Forum #2
February 4, 2016 – Virtual Workshop #4
February 18, 2016 – Virtual Workshop #5
March 3, 2016 – Virtual Workshop #6
April 7, 2016 – Virtual Workshop #7
April 21, 2016 – Virtual Workshop #8
May 5, 2016 – Virtual Workshop #9
June 9, 2016 – Participant Forum #3
One Onsite Coaching visit occurs after each cluster of three Virtual Workshops.
3. Individualized Project Facilitation: Incubating Innovation
Recognizing the importance of individualized interventions that acknowledge organizations "where they are" and assist them in exercising their adaptive muscles, Incubating Innovation offers a full immersion in a major innovation project, with the larger aim of leveraging significant increases in adaptive capacity and, potentially, organizational transformation.  Up to four organizations in each program cohort can take part in Incubating Innovation, and a separate application for this component will be issued in May 2015.
Incubating Innovation provides a three-phase framework over 12 months for organizations that already have a "half-baked" idea for innovation in response to a complex adaptive challenge.  Over the course of the program, they will design, prototype and finalize an innovative strategy, while developing new capacities to continue to adapt purposefully in the future.  The idea behind this program strand is to give participants the opportunity to accelerate their thinking around urgent complex challenges by providing a framework to propel and focus their responses – and then to prototype them repeatedly before considering a full launch.
The first Phase, over 5 months, focuses on creating and managing a special Innovation Team, identifying possible adaptive responses to the identified challenge, undertaking necessary research to explore potential strategies, and discarding ideas early to focus on the most promising.  The second Phase is a 5-day Retreat for the full Innovation Team, which telescopes months of meetings into a short intensive period to foster breakthrough thinking and identify a plan for prototyping the emerging strategy.  All four groups in each cycle of Incubating Innovation will come together to a unified Retreat, to be held in or near Anchorage, to provide impetus for the work, and foster collaborative thinking.  Phase 3 focuses on iterative prototyping – repeated testing of the strategy in low-stakes environments, with ongoing assessment and revision, leading to a balanced decision on full implementation.
The prototyping work will be supported by a $20,000 grant to each organization.  In addition, $2,000 will be made available to each organization to work with a content expert during the Phase 2 Intensive Retreat (plus reimbursement of travel and accommodation expenses).  An expert process facilitator, matched with each organization, will be assigned from EmcArts or the Foraker Group to guide the meetings on-site and work between meetings with the Team and its leadership.
4. Continuing Innovation Capital Grants
If and when an emerging innovative strategy merits scaling, deeper and more sustained investment is needed.  Support for the first years of full implementation assists organizations in staving off the increasing pressure to secure net income long enough for the new practice to establish itself in the marketplace for revenue as well as ongoing contributions.
For this purpose, larger multi-year Capital Grants will be offered competitively to organizations graduating from Incubating Innovation that seek to more fully implement an innovative approach they have prototyped and prepared for scaling.  While the grants may vary individually, the likely average is $75,000 over two years.  The program includes a grant pool of $375,000 (over the two cycles of the program) to be awarded, by application, to an average of 2 to 3 organizations per cycle.
5.  Activating Learning: Capture, Documentation and Dissemination
Participants in the New Pathways program as a whole constitute an innovation "laboratory" whose research and findings may influence not only each other, but also the future direction and approach of the arts and culture sector nationally.  For this reason, EmcArts places a strong emphasis on capturing, documenting and sharing the learning from each organization's journey.  The program design therefore includes resources to develop field knowledge about innovation and engage the arts sector in dialogue around emerging practices.  These include making video profiles and written case studies.  All the materials will be housed at www.ArtsFwd.org, EmcArts' site devoted to dialogue and learning about innovation and "next practices" in the arts sector.