Projects
Since its beginning, the Pre-Development Program has assisted many organizations (link to list on Resources and Documents page) that have either successfully completed their projects or are on track to complete them.  However, success isn't always measured by proceeding with a building.  In some cases, after working with Pre-D consultants, organizations decided the time wasn't right for their project, and they avoided spending time and money with a limited chance for success.
---
Bring the Kids Home
Few would argue that treating emotionally disturbed young people close to home is a good thing to do.  However, that's not always possible in Alaska, and youth are often sent outside the state for care.
To help tackle this problem, the Denali Commission and the state of Alaska teamed up to develop more in-state beds for young people.  Pre-D assisted in planning several of the new facilities.  One of the first was the Volunteers of America adolescent residential treatment facility in Eagle River.
Pre-D "fast-tracked" the site selection and investigation, space programming, concept design and design team selection.  Total time from site selection to start of construction was eight months – saving over $3.4 million in federal funding that would otherwise have been lost if the deadline hadn't been met.  Pre-D also assisted with planning group homes in Dillingham, Kotzebue, Juneau and Anchorage.  All projects were also supported by the Rasmuson Foundation and the Alaska Mental Health Trust Authority.
Now young people who need specialized care can be treated close to families and friends.
Tundra Women's Coalition Center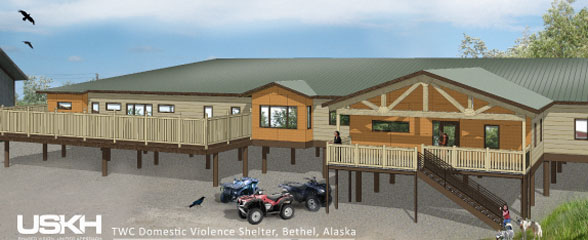 The new Tundra Women's Coalition (TWC) shelter, which opened in Bethel in November 2009, provides a safe and secure environment for women and children escaping domestic violence.
The shelter was one of several funded in part by the Denali Commission, Rasmuson Foundation and Alaska Mental Health Trust Authority.  At one point in its development, rising construction costs had threatened the project.  But with Pre-D assistance that resulted in reducing the square footage and restricting the structure to one floor, the facility was built within the existing $9 million budget.
Nearly 400 women and children received shelter from the TWC in 2009, an increase of 25% from 2008. More than three-quarters were from rural villages. The new building accommodates families that need short-term emergency housing, as well as those requiring more time to get their lives back on track.
Seward Library Museum
Libraries and museums serve as the cornerstones of a community's cultural activities.  Seward was interested in building a new facility to meet both purposes for several years before coming to Pre-D through the Rasmuson Foundation.
The original plans called for 31,000 square feet of space and a construction cost of $18 million.  This was more than the community could afford.  With Pre-D assistance, the building was cut to 16,000 square feet – a size determined to be more appropriate for Seward – and the budget was pared back to $10 million.  The city has passed a bond issue that will cover half the cost and is applying to the legislature and various foundations for the remaining funding.
This planning success is a tribute to the active participation of the project steering committee, which kept an open mind about the building and focused on sustainability.  The committee met monthly for three years and kept the community informed.  The committee exemplifies the difference a committed group of people can make to the success of a project.
The project timeline calls for opening the new community cultural center by August 2012 – the 100th anniversary of Seward.