Alaska's nonprofit sector represents a wide variety of organizations that provide public service and have an impact on the lives of nearly everyone living in the state. Although most Alaskans do not think of nonprofits as an economic powerhouse, you know that we play a critical role in the state's economy both as major employers and as revenue generators. No industry in Alaska can prosper without the nonprofit sector. We provide both a financial and social return on investment by leveraging public and private resources. We are part of the healthcare, utilities, fisheries, and oil and gas industries, and provide essential services such as firefighting, early child care, basic utilities, housing, and food security — just to name a few.
Nonprofits are the safety net across Alaska. Every Alaskan is the beneficiary of a nonprofit because our work is woven into the fabric our communities. At the same time, nonprofits can't do all that needs to be done with diminishing support — financial or otherwise. When policy makers make financial decisions, create rules and regulations, or develop programs, we are consistently urging them to remember that every dollar cut from the nonprofit sector will result in higher costs in the long run. Indeed, each decision has an impact on the health of the sector and, thereby, the wellbeing of every Alaskan. It is a challenging time in our state — our resources are limited, our safety net is thin, and the tendency to cut rather than invest is high. Today, we can change that story.
Part of changing the story is to gather and share new and better information. To that end, we are excited to present the latest research on the economic impact of Alaska's nonprofit sector. Every three years we embark on this analysis to better inform policy makers, industry, and nonprofit leaders about Alaska's nonprofit sector. This is our fourth economic impact report. It required an enormous amount of research to produce because no single source exists for comprehensive data on the sector at either the state or federal levels. We are confident that we are using the best and most trusted sources available for both raw data and research from the field. Those sources include the IRS, State of Alaska Department of Labor, U.S. Census Bureau, National Center for Charitable Statistics, Institute of Social and Economic Research, and our new partners at the Center for Economic Development, a program of the UAA Business Enterprise Institute. The data in this report is from 2015-2016, the last years when complete data sources were available. While we make every attempt to replicate the data from one report to another, the data sources do shift as better information is available.
New this year, the main report is written specifically for policy makers. This allows all of us to use the information with those who are making decisions about federal, state, and local government funding and policies that impact the sector. As a nonprofit leader, we want you to use this report in your work and in your conversations. For this purpose, we hope you will read the full report and spend some time with it. We are taking this report and additional information around the state to meet with nonprofit, business, and government leaders and, I hope, with you. Until then, here are some highlights.
Of course, we know people are curious about how many nonprofits we have so… drum roll… we now have 5,765 nonprofits in Alaska. In our last report, we noted that the number of nonprofit organizations in Alaska had fallen significantly between 2007 and 2013. In large part this was the result of a 2010 IRS rule that disbands nonprofits if they fail to submit the tax form 990 for three years in a row. (Note: religious congregations are exempt from this filing requirement.) While continued enforcement of the three-year rule is resulting in nonprofits dissolving, the introduction of the IRS nonprofit filing form 1023 EZ in 2014 simultaneously made it easier to form a nonprofit with roughly 99 percent of all applications accepted by the IRS. These two trends are offsetting each other, resulting in flat growth. New data shows that between 2013 and 2016, the total number of nonprofits in Alaska stayed about the same at roughly 5,700 organizations. Of these, the number of 501(c)(3) organizations decreased by about 350, offset by an increase in other nonprofit classes. The result is that one nonprofit exists for every 130 Alaskans as of 2016, compared to one for every 100 residents in 2010.
Far more important than how many nonprofits we have in our state is the impact of what they do. Given the state of Alaska's economy, nonprofits are making changes today to increase that impact– becoming more creative, spurring innovation, and looking for efficiencies. In this report we highlight five ways that show how we're doing our part.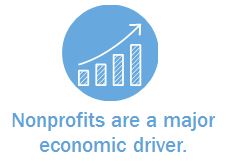 Nonprofits are a significant source of Alaska jobs. We often lose sight of this because nonprofits are not considered to be a single industry. When the state tracks jobs, it classifies them by industries – oil and gas, tourism, healthcare – not by the sector where the work originates – nonprofit, government, or for-profit. In fact, all three sectors are integrated, and a vibrant nonprofit community helps generate jobs, both directly and indirectly, in all the state's industries. When nonprofits spend money on supplies, services, or payroll, it circulates around the state creating more jobs for Alaskans and their families. In 2015, nonprofits accounted for 17% of all employment in Alaska compared to 10% nationwide. The nonprofit sector directly employed 44,092 Alaskans. Counting indirect and induced effects, nonprofits were responsible for sustaining 66,700 jobs in the state. These jobs translate into $3.8 billion in total income generated by the sector that ripples through our communities.
If nonprofits were treated as their own industry, they would be the second largest source of non-government employment behind oil and gas in Alaska. Nonprofits are the largest source of employment in many rural communities. In three rural census areas in Western Alaska, nonprofits make up over 40% of all direct employment. Alaska's major industries — oil and gas, mining, seafood, and the visitor industry — all benefit from nonprofit organizations. Industry and trade associations, convention and visitor bureaus, oil spill response organizations, and aquaculture associations are some examples of nonprofits making Alaska's industries stronger.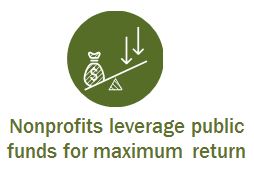 2. While Alaska's nonprofits are resourceful and innovative, and many struggle to meet the increasing demand for services as state and local governments cut programs and federal funding remains flat. Nonprofits are doing their best to carry out their critical role in the community. Their use of earned income, private philanthropy, and limited public resources is judicious. Every day nonprofits work to maximize and leverage each resource. This is a public/private partnership that must continue.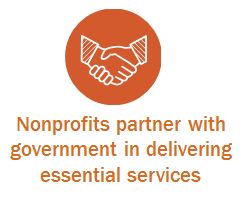 3. Nonprofits work hand-in-hand with government to deliver essential services. Federal, state, local, and tribal governments often contract with nonprofits to perform key responsibilities efficiently and effectively. Particularly in rural and unincorporated areas, nonprofit organizations deliver a variety of public services that are normally associated with government – like public safety, water and sanitation, fire service, and workforce development. This social safety net strengthens the fabric of Alaska communities. This is the time to infuse government resources into nonprofit organizations to maintain critical public services.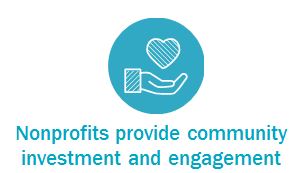 4. The economic engine of philanthropy from foundations, corporations, and individuals coupled with Alaska's high rate of volunteerism has a powerful influence on programs, infrastructure, education, and jobs across Alaska. At the same time, local, state, and federal policies have a profound impact on philanthropy as does any financial investment from government. Each donation leverages another. We need to be realistic and excited about the possibilities for growth, while understanding that philanthropy alone cannot replace the role of government. To increase Alaska's civic engagement and private investment, we need to work together to encourage — not stifle —philanthropy of all kinds.
5. Prosperous economies and healthy communities create a rich quality of life. As a partner to local governments and industry, Alaska nonprofits provide essential services like medical care, housing, and utilities. Nonprofits also bring us joy and purpose through art, religious and cultural expression, education, and recreation. Let's celebrate nonprofits for caring for our people, our pets, and our planet. Together, we can foster healthier and more prosperous communities.
Nonprofits, like all other businesses, want a stable and healthy economy that ensures all of our communities thrive. Together we have an opportunity to strengthen the state through the nonprofit sector. As nonprofit leaders, we must be ready to work together to further strengthen what is already strong, and redesign what needs work. We must partner with government, business, and with each other to ensure healthy missions.
Again, I encourage you to use this report to stand for your mission and stand for the sector. Specifically:
Use the data to better understand the economic impact of Alaska nonprofits. Then do the math and apply the data to your own organization.
Use the stories in the report as a reminder that the sector is a place of innovation and opportunity if we nurture rather than stifle it. Then write your own story.
Engage with each other as nonprofit leaders and with government and industry partners in finding solutions to our common challenges and strengthening what works for Alaska. Then do it again and again.
Use your position and your voice to stabilize our safety net, secure points of leverage, and collaborate to maximize our resources. Then engage your team to do the same.
Ask for a stable, long-term fiscal plan for Alaska to ensure a vibrant place for all Alaskans to work, grow, and engage. Then celebrate.
Alaskans love to be unique, and this report highlights all the ways we can be proud of our work and of our impact on the state. I know each and every day, for every amazing story that we tell, there are unceasing hours of labor, determination, and perseverance. We know that great missions require intentional effort. We don't always get it right, nobody does. What we hope for at Foraker is that we are learning, growing, and putting our tools to work. This report is one of those tools. We look forward to hearing how you use it.
comments powered by

Disqus