Standing Beside Alaska's Non-Profits
Leadership Summit
***The next Leadership Summit will be held in the spring of 2019. ***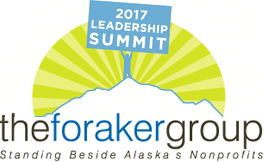 April 3 & 4 2017 • Hotel Captain Cook • Anchorage, AK
Stable, Resilient, Adaptive: Tools to Take Us Forward
This is the time for Alaskans, and especially nonprofit board and staff, to think big. The challenges facing us are significant. The needs in our communities are great. How do we begin? That's our exploration at the 2017 Foraker Leadership Summit.
This summit will be marked not just by envisioning new possibilities, but also by laying out a course for turning our dreams into reality. We will explore ways of working that are anchored by skills and tools we already know and enhanced by new ones that will take us where we need to go. It will be a time to look again at what makes us resilient. This is our charge as nonprofit leaders – to balance the need for stability with the search for creativity and innovation in how we serve. When we do this we are able to take measured risks, without being reckless. We jump with strategic intention.
Join us as we look through our lenses of sustainability with new clarity – allowing us to both keep an eye on solid ground while we view fresh perspectives on what comes next.
You'll find a full program agenda here.
Guest Speakers
Our guest speakers will bring some of the best thinking available on innovative solutions to the challenges of leading today's nonprofit. You'll find more on our guest speakers here.
Jeanne Bell
CEO of
CompassPoint
. Jeanne is a nationally recognized expert on nonprofit finance and strategy.
Akaya Windwood
President of the
Rockwood Leadership Institute
. Akaya is known around the world for elevating the effectiveness of leadership and collaboration in the nonprofit sector.
Steve Patty
Founder of
Dialogues in Action
. Steve is noted for his skills in leadership development and impact evaluation. He joined us in 2015 for our summit and was one of the most highly rated speakers.
David Sawyer
Principal consultant at
Converge for Impact
, a team of strategists and designers who make complex collaborations work.
David Ehrlichman
Principal consultant at
Converge for Impact
, a team of strategists and designers who make complex collaborations work.
Katie Orenstein
Founder and CEO of the
OpEd Project
, an organization with the mission of increasing the range of voices and quality of ideas we hear in the world.
Richard Evans
Co-founder and President of
EMCArts
. Richard appeared at the 2015 summit and many participants asked that we bring him back. His recent work emphasizes innovation and adaptive organizational change.
Liz Medicine Crow
President/CEO of
First Alaskans Institute
. Liz is a leader in advancing policy solutions towards racial equity and reshaping the dialogue on race in Alaska.
Our Sponsors
Signature Sponsor
Sustainability Sponsors
Focus Sponsors
Dates:
Leadership Summit 2017
Price: $350.00
Partner Price: $300.00
No events dates are currently scheduled. To request an event date or to speak with a trainer, please contact us.
Downloads: