Standing Beside Alaska's Non-Profits
Certificate in Nonprofit Management
The 2017 application period is now closed. Please check back for fall 2018 dates.

The Foraker Certificate in Nonprofit Management is a statewide program. Classes begin in September and end in December. All sessions are held in-person, in Anchorage. Travel scholarships are available.
Are you an Alaska nonprofit professional in a leadership position? Come enhance your management skills and explore a full range of issues and best practices to use in your organization.The Certificate in Nonprofit Management program features courses developed to apply classroom teachings directly to your workplace, case studies directly related to issues facing Alaska nonprofit organizations, and a network of fellow professionals.
For 2017 program dates, click here.
Applicants will be evaluated based on their current position in the organization, their career intentions, impact on the agency and geographic distribution. Every effort is made to create a cohort of students that will both teach and learn from each other.
To learn more about our staff, click here. To learn more about our consultants, click here.
Tuition & Scholarships
Tuition is $2,800 with a discounted rate of $2,300 for Foraker Partners. Payment is due on the first day of class unless other arrangements are made. Please do not send payment with your application. Limited travel scholarships are available for those living beyond driving distance.
Mat-Su nonprofit leaders: The Mat-Su Health Foundation will be offering scholarships to enable Mat-Su professionals in nonprofit leadership positions to attend either the Certificate in Nonprofit Management program or the Catalyst for Nonprofit Excellence program. Applicants must be willing to commit to meeting all of the requirements of the training they choose. The application for these scholarships will be available at www.healthymatsu.org on July 1 and must be submitted by July 15.
Schedules designed for the working professional
Courses developed to apply classroom teachings directly to your workplace
Case studies directly related to issues facing Alaska nonprofit organizations
A network of fellow professionals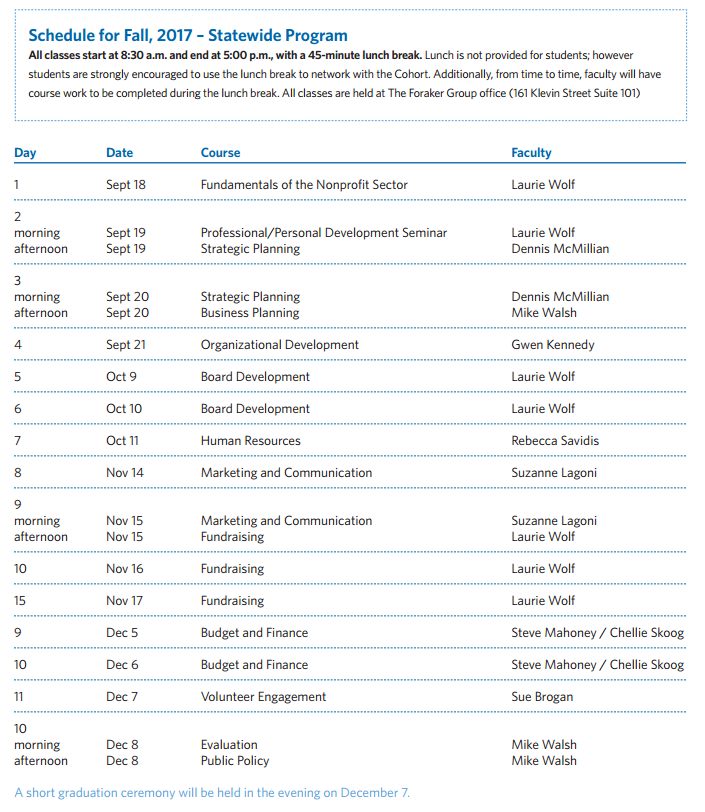 Downloads: