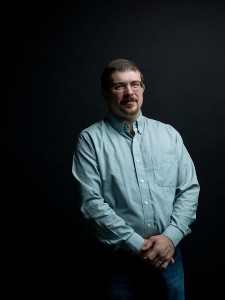 Cameron Wohlford – Fairbanks, AK
Senior Project Manager, UAF Facilities Services
For most of my adult life, I have been in service to my community, to the University of Alaska, and, of course, to my family. At the University my mentor Pat Pitney saw more potential than I was demonstrating. Perhaps my focus was too wide – being a father of three, the chief and CEO of a local fire department, and a full-time employee at UAF. When Pat suggested I attend Catalyst, her charge to me was to organize my potential and ready myself for a shift in my level of influence.
As an introvert, the first day of Catalyst is worse than the first day of kindergarten. There was not a box of wooden blocks to hide quietly behind until class began. I was thrust into a community of 17 other very strong, high performing sector leaders with no time to prepare. The first day was a blur. The second day was life changing. I revealed a lot the second day to my new family. I left the first session charged up to meet the small personal goal I developed for myself and nearly four years later, I conquer that goal every day.
I wrapped up a huge project with a major win in late 2015. The goal I had set out for in 2012 and all that I, and many others, had worked towards was realized – our fire department received one of the best ratings a volunteer emergency services agency can achieve. That same week, I retired from the fire service after 20-plus years. I directly relate these achievements to the Catalyst program.
A few weeks back, I had the chance to speak to our church on Ut Prosim: That I may serve. I live to serve, but it wasn't until Catalyst that I truly understood my value and the wonders of giving with no expectations of return.
comments powered by

Disqus